Don't Let Go
By Harlan Coben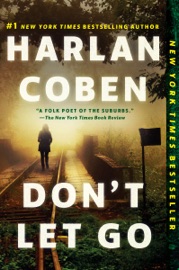 Release Date: 2017-09-26
Genre: Mysteries & Thrillers
Description
With unmatched suspense and emotional insight, Harlan Coben explores the big secrets and little lies that can destroy a relationship, a family, and even a town in this powerful new thriller.

Suburban New Jersey Detective Napoleon "Nap" Dumas hasn't been the same since senior year of high school, when his twin brother Leo and Leo's girlfriend Diana were found dead on the railroad tracks—and Maura, the girl Nap considered the love of his life, broke up with him and disappeared without explanation. For fifteen years, Nap has been searching, both for Maura and for the real reason behind his brother's death. And now, it looks as though he may finally find what he's been looking for. 

When Maura's fingerprints turn up in the rental car of a suspected murderer, Nap embarks on a quest for answers that only leads to more questions—about the woman he loved, about the childhood friends he thought he knew, about the abandoned military base near where he grew up, and mostly about Leo and Diana—whose deaths are darker and far more sinister than Nap ever dared imagine.
Reviews
Don't Let Go

By Ritapfsnsd

One of his best. He never disappoints.

Spot on .. the thrill of it all

By Glassbreak

I could just say Read this book That would be a disservice Read it, know these people.. they will remind you of someone you know Read it... you've heard these secrets before Read it ... tell everyone you know to read it

Don't Let Go

By Volunteer Dave

This book is so intense. I had trouble putting it down. Can't wait for the next book. David.

Coben does it again. A real page turn...and maybe too true.

By 1969nymets

An enjoyable mystery an review of the times.

Awesome

By Timmy's Take

Awesome book

Don't Let Go

By Jim's I TOUCH

Always a fan, now an even bigger fan. Couldn't put it down. Enough said.

Not as thrilling as his previous book

By Cindylu7756

Ok, this book starts out like one of those books you can't put down like many of Harlan Coben books and I have read every one. About mid way I found I was skimming just to find out the end of the plot. This was way out of element of Mr Coben's. Kinda boring but I did finish the book and disappointing.

Page turner

By hard to get winning$

Great, fast read...

Don't Let Go

By Stephenstrategist

Harlan Coben has done it again! I've read every one of his books and at the end I say "this is his best!" And I'll say it again here. He had me from the first sentence and for an entire weekend I dodged work, household chores, and shopping to finish this page turner! I loved the bonus of Myron Bolitar showing up for a paragraph! That was so cool! The characters, the brilliant, twisting plot, the casual writing style all make Harlan Coben a five star author!

I've always been a fan

By Meeh1

And even though this isn't a Myron book it's so good! Its different than Harlan's other books that aren't apart of the Myron series. This was somehow more intense. Well worth the read!!