The Cuban Affair
By Nelson DeMille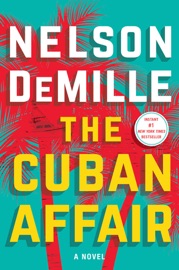 Release Date: 2017-09-19
Genre: Mysteries & Thrillers
Description
INSTANT #1 NEW YORK TIMES BESTSELLER

From the legendary #1 New York Times bestselling author of Plum Island and Night Fall, Nelson DeMille's blistering new novel features an exciting new character—U.S. Army combat veteran Daniel "Mac" MacCormick, now a charter boat captain, who is about to set sail on his most dangerous cruise.

Daniel Graham MacCormick—Mac for short—seems to have a pretty good life. At age thirty-five he's living in Key West, owner of a forty-two-foot charter fishing boat, The Maine. Mac served five years in the Army as an infantry officer with two tours in Afghanistan. He returned with the Silver Star, two Purple Hearts, scars that don't tan, and a boat with a big bank loan. Truth be told, Mac's finances are more than a little shaky.

One day, Mac is sitting in the famous Green Parrot Bar in Key West, contemplating his life, and waiting for Carlos, a hotshot Miami lawyer heavily involved with anti-Castro groups. Carlos wants to hire Mac and The Maine for a ten-day fishing tournament to Cuba at the standard rate, but Mac suspects there is more to this and turns it down. The price then goes up to two million dollars, and Mac agrees to hear the deal, and meet Carlos's clients—a beautiful Cuban-American woman named Sara Ortega, and a mysterious older Cuban exile, Eduardo Valazquez.

What Mac learns is that there is sixty million American dollars hidden in Cuba by Sara's grandfather when he fled Castro's revolution. With the "Cuban Thaw" underway between Havana and Washington, Carlos, Eduardo, and Sara know it's only a matter of time before someone finds the stash—by accident or on purpose. And Mac knows if he accepts this job, he'll walk away rich…or not at all.

Brilliantly written, with his signature humor, fascinating authenticity from his research trip to Cuba, and heart-pounding pace, Nelson DeMille is a true master of the genre.
Reviews
The Cuban affair

By Iraptoo

Terrible

The Cuban Affair

By Stacym7857

Enjoyed the book greatly. Action, humor and history together. Hope to see Mac continue as a character.

Cuba Debacle

By Disappointed in Clearwater

Nelson must have needed fast cash for an expansion of house on Long Island. This book is the worst thing he has ever written and I am a fan! I just kept waiting for the story to unfold in some unexpected way with a plot twist or two, never happens. Instead John Corey becomes a fisherman, meets an attractive Cuban girl, fill in the blank. Don't bother wasting time or money!

The Cuban Affair

By PushpushStable

Always be prepared with a DeMille book...easy to pick up, almost impossible to put down. A fantastic read, packed with sarcastic wit.

The Cuban Affair

By Nelson Demille

Pretty hokey, beer grade.

just plain bad

By olafcra

the story was predictable, the writing average but the characters were just juvenile fantasies.

The Cuban Affair

By JPB 9871

Another superb effort by De Mille.

The Cuban Affair

By wneblett

Did Nelson DeMille really write this book? If he did he should be ashamed. The plot is weak and the story just draaags along. The protagonist, Dan MacCormick is a retired Army Captain who runs a charter fishing boat in Key West. The Dan MacCormick in DeMillle's book is a smart aleck, who makes trite, banal jokes and thinks about sex all the time. He reminds you of the nerd in high school who was the class clown that no one liked. The other characters are no better. I've read most of DeMille's books and this ranks at the bottom.

Terrrrrible!!!!

By Ciscobear

This was a very very disappointing coming from Nelson DeMille. The constant, supposed, humor between The two main characters was boring and childish. One of the worst books I've ever purchased

Not his best work.

By GCLaw

Rambling and repetitive with a foolish story that makes little sense. Don't bother.