The Midnight Line
By Lee Child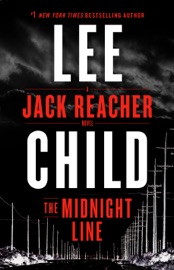 Release Date: 2017-11-07
Genre: Mysteries & Thrillers
Description
#1 NEW YORK TIMES BESTSELLER •  Lee Child returns with a gripping new powerhouse thriller featuring Jack Reacher, "one of this century's most original, tantalizing pop-fiction heroes" (The Washington Post).

Reacher takes a stroll through a small Wisconsin town and sees a class ring in a pawn shop window: West Point 2005. A tough year to graduate: Iraq, then Afghanistan. The ring is tiny, for a woman, and it has her initials engraved on the inside. Reacher wonders what unlucky circumstance made her give up something she earned over four hard years. He decides to find out. And find the woman. And return her ring. Why not?

So begins a harrowing journey that takes Reacher through the upper Midwest, from a lowlife bar on the sad side of small town to a dirt-blown crossroads in the middle of nowhere, encountering bikers, cops, crooks, muscle, and a missing persons PI who wears a suit and a tie in the Wyoming wilderness.

The deeper Reacher digs, and the more he learns, the more dangerous the terrain becomes. Turns out the ring was just a small link in a far darker chain. Powerful forces are guarding a vast criminal enterprise. Some lines should never be crossed. But then, neither should Reacher.

Praise for The Midnight Line
 
"Puts Reacher just where we want him."—The New York Times Book Review

"A gem."—Chicago Tribune
 
"A timely, suspenseful, morally complex thriller, one of the best I've read this year . . . Child weaves in a passionately told history of opioids in American life. . . . Child's outrage over it is only just barely contained."—The Philadelphia Inquirer
 
"A perfect example of Lee Child's talent . . . Lee Child is the master of plotting. . . . This is Child's most emotional book to date. . . . This is not just a good story; it is a story with a purpose and a message."—Huffington Post
 
"I just read the new Jack Reacher novel by Lee Child. . . . It is as good as they always are. I read every single one."—Malcolm Gladwell
Reviews
Great

By MJR1

Great

Awesome

By lago/mike

Child is a master story teller. I have read them all and can't wait for the next one.

The Midnight Ride

By Super Clock

Book keeps the reader's interest and is fast moving.

Great suspense

By Divorce2013

You think since his books have been made into a couple movies that this one might be the same. It's not. It's better. Definitely worth the read. The story has some great twists and turns. Tom Cruise couldn't pull off being Jack Reacher in this one, ha! Enjoy...

Grampa

By RMarkD

An excellent read. Intriguing and captivating. Enjoyed every chapter.

Never gets going...

By NapaVintner

Usually I can't put a Reacher novel down, and I've read them all, some even two to three times. But this is the slowest moving one yet. It's as though Childs Editor begged him for a book, so he cranked out something that didn't really work and released it anyways. (Yes Editors, you can even edit Lee Child's!) I must say I kept on reading, hoping it would pick up, but it didn't until the very end. The message was Fantastic! Writing about wounded Veterans is EXTREMELY IMPORTANT! We need to know the trauma they suffer on an ongoing basis so that we can possibly help.

Lame book

By Jerry S.D.

This was among the most disappointing Reachers book of all. Started out with a great premise then went off the rails to fantasy world with long tedious periods and ridiculous conclusion, which was never tied down. Sanderson did what? Scorpio died in the dryer? Mackenzie went where? This was just a total "reach", pardon the pun.

Reacher is back!

By sgeil

This is typical reacher. More cerebral, more investigative, and back to work made Jack Reacher such a great read.

The Midnight Line

By PremiumLakeJames@700

Always like Lee Childs books and this was no exception . Little long in details but overall very good read. Richard Dean

Disappointed

By buyguy1001

Big Reacher and Lee Child fan. I've read all the Reacher novels but this one did not meet his usual standards. Hope the next one is better.