The Midnight Line
By Lee Child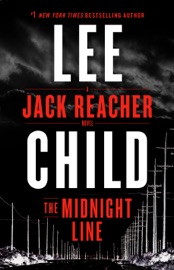 Release Date: 2017-11-07
Genre: Mysteries & Thrillers
Description
#1 NEW YORK TIMES BESTSELLER •  Lee Child returns with a gripping new powerhouse thriller featuring Jack Reacher, "one of this century's most original, tantalizing pop-fiction heroes" (The Washington Post).

Reacher takes a stroll through a small Wisconsin town and sees a class ring in a pawn shop window: West Point 2005. A tough year to graduate: Iraq, then Afghanistan. The ring is tiny, for a woman, and it has her initials engraved on the inside. Reacher wonders what unlucky circumstance made her give up something she earned over four hard years. He decides to find out. And find the woman. And return her ring. Why not?

So begins a harrowing journey that takes Reacher through the upper Midwest, from a lowlife bar on the sad side of small town to a dirt-blown crossroads in the middle of nowhere, encountering bikers, cops, crooks, muscle, and a missing persons PI who wears a suit and a tie in the Wyoming wilderness.

The deeper Reacher digs, and the more he learns, the more dangerous the terrain becomes. Turns out the ring was just a small link in a far darker chain. Powerful forces are guarding a vast criminal enterprise. Some lines should never be crossed. But then, neither should Reacher.

Praise for The Midnight Line
 
"Puts Reacher just where we want him."—The New York Times Book Review

"A gem."—Chicago Tribune

"Compulsively readable."—Publishers Weekly (starred review)
 
"[A] multifaceted novel about dealing with the unthinkable . . . It's automatic: Reacher gets off a bus, and Child lands on the New York Times bestseller list."—Booklist
 
"I just read the new Jack Reacher novel by Lee Child. . . . It is as good as they always are. I read every single one."—Malcolm Gladwell
 
"The book is very smart . . . [and] suggests something that has not been visible in the series' previous entries: a creeping sadness in Reacher's wanderings that, set here among the vast and empty landscapes of Wyoming, resembles the peculiarly solitary loneliness of the classic American hero. This return to form is also a hint of new ground to be covered."—Kirkus Reviews
Reviews
Page Turner - It's Not

By the_garvers

For me, the Jack Reacher books are a guilty pleasure - far from serious literature that my wife always wants me to to read - but fun plot driven stories that have always entertained me from start to finish. I found this latest installment of the series very dull with much of the text appearing to be little more than filler to reach a page total goal for the publisher. The plot is thin and contrived. I am 2/3 through the book and can't decide if I have enough interest to finish. I hope Reacher can return to form in his next adventure!

Reacher is back

By Reacher reader

Child has rediscovered Jack Reacher. After a few uninspiring reads this book gets closer to the "real" Reacher I have enjoyed for years.

Midnight line

By Kglaboard

Great read

The Midnight Line

By Dddddddddkiejehdvueuuejsksnd

I e read every Jack Reacher book and story. This is the best one of all. Many thanks -from a Veteran.

Never disappoints

By MLMpa

Classic Jack—No-Middle-Name—Reacher. I would have been 50-something on the library waitlist, so I splurged and downloaded "Midnight Line". It's owned me for two days, so now I'm ready for the next installment. Great read.

Midnight Line

By MAKgdk

I love Jack Reacher books, but this is the first one that was not great. It was so slow, no build up and the story had no resolution. I thought I skipped some pages and went back to look. If you have never read these books, don't let my comments scare you away. Start from the beginning,of the series but skip,this one. Sorry Jack. Hope you come back alive soon.

The Best Reacher in a Decade!

By Delikins

These novels are always solid and deliver a good read. But they've been feeling a bit stale lately, as though Jack has reached (ha!) his last Greyhound station But this one is a keeper - with a timely plot. And it demonstrates that people with chronic pain are often turned into political hockey pucks. This novel develops characters who are respected and loved for all the right reasons. So buy Jack another toothbrush --- he's not done yet.

Great Read

By OpsChief17

This is a great read. I found it difficult to put down when I had things to get done. The story is quite believable and I think this is a good selection for a movie, as long as they don't change anything in the story line, which is typical for Hollywood, maybe they shouldn't make a movie.

Midnight line by Lee child

By SuzGom

I always wait with much anticipation for the next jack reacher novel . This was fantastic as always . Such a gifted writer for creating the simple and yet complex character of Reacher. Five stars

The real Reacher.

By Widowernewbe

Mr Child reminds us how large Jack Reacher is many time to help erase the Tom Cruise movie version. Like Michael Connelly's Bosch anti-hero, Jack enlightens us to the opioid epidemic and why big pharmaceutical has created this cris with the development and pushing through adds and pharmaceuticals reps a drug that hooks you and ensures long term profits. Great story telling and a satisfying finish.